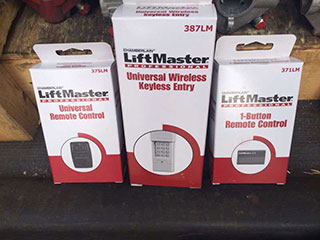 For many homeowners, convenience is king. By incorporating time and stress-saving features into our everyday appliances, we can spend more of our precious time focusing on what really matters. There are plenty of homeowners who still don't know about the many impressive features that modern openers come packed with, so we wanted to share some of our favorites with you.
WiFi Remote Control

Ever left home in a hurry and forgotten to close the garage door? It's a big problem - your home is wide open, and anyone could just walk in. With some modern door openers, though, this isn't a problem; you can close or open your door from anywhere in the world at any time. These smart openers connect to your home's WiFi and can be controlled through a dedicated app - no more worrying, no more stress.

Keypad Entry System

If you don't have your remote control on you, it's not usually possible to get into your garage from the front of your house. This can be awkward, especially if you need to get in quickly without going through the house. However, plenty of modern openers today come equipped with a remote keypad entry system that attaches to the front of your house, allowing you to get in and out without having to fetch the remote - a great, simple timesaver.

Auto-Cycling Remote Frequency

Imagine if thieves could duplicate your front door key without you knowing? Well, it is possible to copy the frequency of your remote control, giving others access to your home whenever they want. To combat this, some modern openers change frequency each and every day, making it almost impossible for thieves to duplicate the signal of your remote control.

Ultra-Quiet Belt Drives

Most modern openers work quietly and smoothly, but some are designed specifically to be near-silent in operation. Using a belt drive rather than a chain, these openers are ideal if someone's bedroom is located near the garage, or if you often work late.

Automatic Closure System

Whenever you leave the home, it can be annoying to keep shutting the door behind you. Some openers are now fitted with a timer that counts down after the door's been opened, meaning it can shut itself after a certain amount of time has passed. This provides an additional level of security, since you'll never accidentally leave the door open, and the safety sensor will ensure it'll never accidentally close if anything is in the way.
Interested in finding out more about the ways you could upgrade your system? Just call our experts at Garage Door Repair Boerne to discuss this further.