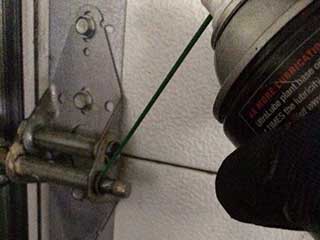 When winter sets in and the cold weather sets in, you'll want to feel that you can rely on your garage door to keep functioning properly. There are plenty of simple tasks which can be done when it's warmer to ensure that your system remains hassle-free all winter long. Here are our top tips for preparing your door!
Check The Weather-Stripping

Weather stripping helps to seal the door against the elements, but it can become worn and damaged over time. Even a small gap here can be enough to let in dirt and debris, and even small animals seeking warmth during the winter. It's well worth spending a bit of time in fall to ensure that your door is properly sealed and weatherproofed before the colder weather appears.

Bump Up The Insulation

The colder your garage is, the more heat it will leech from your home. This means higher utility bills and a colder house. That's why it is worth investing in high-quality insulation for your door. This can be fitted yourself, but we recommend contacting our team of professional technicians - even a small gap in the insulation can undo all your hard work.

Consider a Pre-Winter Tune Up

If there's one job that you won't want to do in the depths of winter it's trying to work out what is wrong with a broken and grumpy door system. This is inconvenient at the best of times, but when it's freezing cold outside, it's going to be very uncomfortable cranking the door up and down by hand every time you leave for work. You can perform a visual inspection of the door yourself and check for problem areas, or contact our trained technicians at Garage Door Repair Boerne for a full pre-winter tune-up.

Invest In A Space Heater

A garage is often off-limits when the temperature plunges, and any jobs you have to do out there can be extremely uncomfortable. If you need to work on your car, though, sometimes you just have to get out there and do it. Rather than putt up with the discomfort with the freezing conditions, why not invest in an electric forced-air heater. This will quickly take the edge off, and make those little jobs a lot easier to take care of.